All-in-One Business Suite
Invoicing and Online Collections
Payroll and Salary Payments
Business Listing and Lead Generation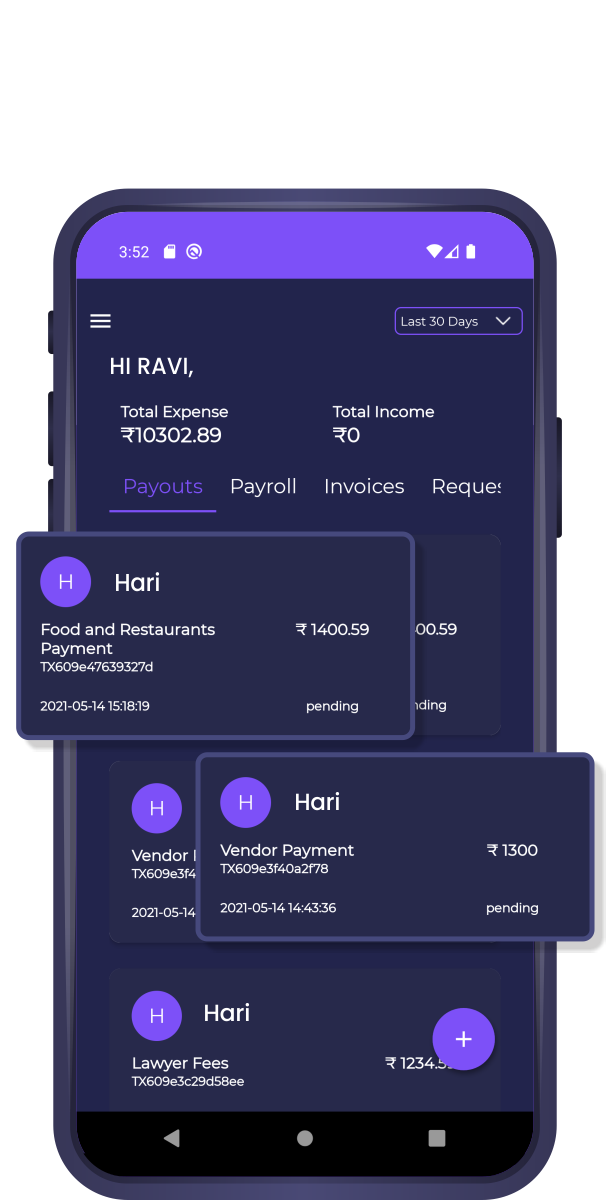 Maximize Your Business Potential
Running a business is tough, especially if you are spending a lot of time managing basic processes rather than on actual business development and planning.
From vendor on-boarding, to purchase order generation, inventory management, bill payments, employee on-boarding, salary payments, client invoicing, payment follow-ups, lead generation and closing a sale, there goes a lot of time in managing operations. And it's not just about getting the tasks done but being able to closely monitor the data, based on which you can make informed decisions.
There is an app for everything, and truly there is. But either they exist in isolation, aren't connected, or worse still, are offline, without any backup.
If you are still using such a setup then PhyloPay is the solution for you. We de-clutter everything, offer you one platform to manage all your business tasks and make sure you get enough time to focus on the main 'business' end of things!
Vendor Payouts & Bill Payments
Now you can easily pay your vendor and utility bills and manage your cash-flow, all in one place.
Automatically verify vendor's GST/PAN details and bank account/UPI while on-boarding them
Make payouts using your preferred mode of payment viz. credit/debit cards, netbanking, UPI, etc.
Invoicing and Online Collections
Use our cloud invoicing platform to raise invoices to your clients and allow them the option to pay via online modes as well.
If you are a digital agency or need to bill your clients monthly for a fixed amount, activate subscriptions and invoices will be auto-generated and shared with the client.
'Mark as paid' the invoices against which you receive offline payment so your dashboard shows most updated financial health data.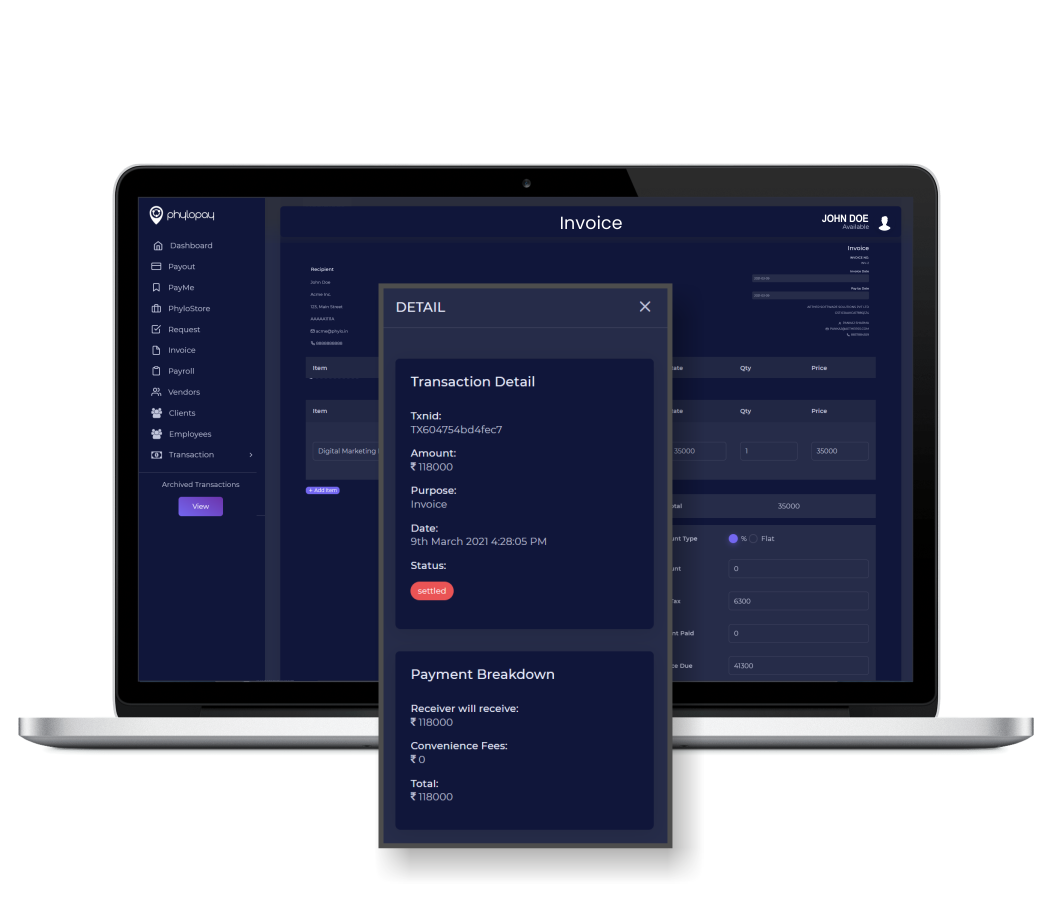 Payroll Management and Salary Payments
Now process your employee payroll and generate professional salary slips quickly and easily. Also keep track of advance payments and deductions.
Generate electronic salary slips with proper allocation of funds into basic, HRA, bask of allowances and other heads and deductions.
Make timely salary payments choosing the mode of payment of your choice viz. credit/debit cards, netbanking, UPI, etc.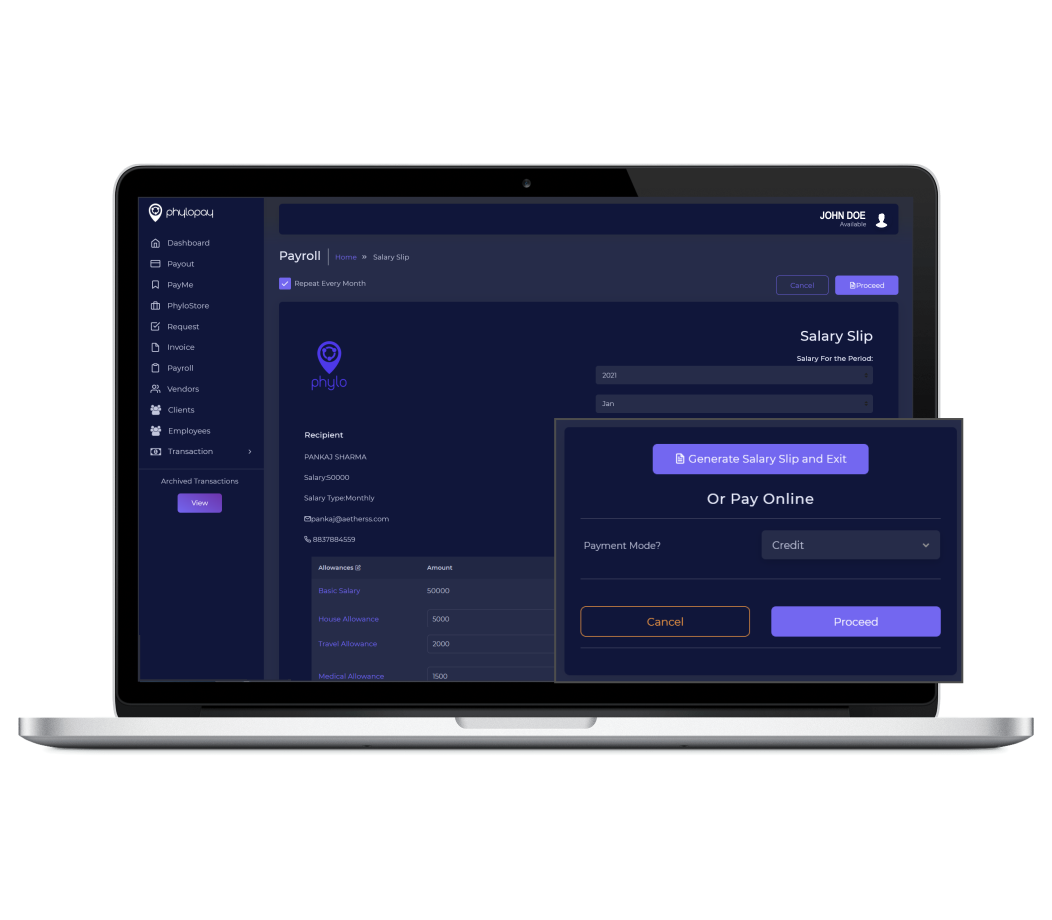 Business Listing and Lead Generation
Use Phylo to generate a free business listing (PhyloStores) and share your digital presence with prospective clients.
PhyloStores listing comes with a PayMe link, you can share the page via Social Media or Whatsapp and collect payments on your page.

Set your promotion budget and we will automatically promote your page on the largest Search Engine to generate genuine leads.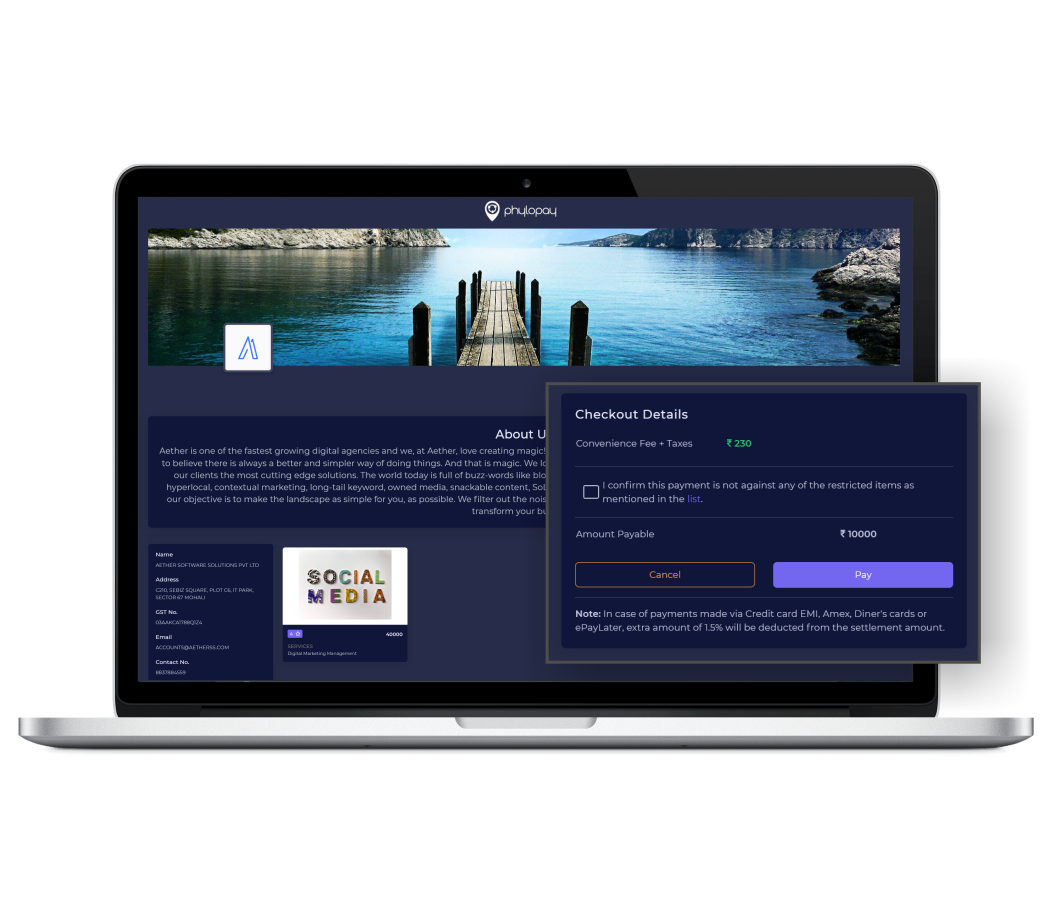 How PhyloPay Benefits Businesses
SAVES TIME
Don't waste time on offline and legacy apps by performing repetitive tasks every month.
ALL-IN-ONE APP
Forget the hassle of managing different apps for your data, now perform all tasks in one place.
FINANCIAL MONITORING
Stay on top of your business and view your system's financial health in real time.
BETTER MANAGE CASH-FLOW
Choose credit/debit, netbaking, UPI as per convenience and available cashflow.
PhyloPay Allows You To Better Manage Cashflow By Putting Some Payments On Credit Cards
Here are some typical examples where credit cards are generally not accepted. But with PhyloPay, you can still pay for these services using your credit card.
Please ensure your credit card supports these purposes of business payments.
Starter Plan
(Forever Free):
Payouts (upto 10 per month)

Payouts Transaction Charges 2.25% (on all modes)

Max Transaction size: Rs. 50k
Growth Plan
(Rs. 6,000/year*)
*limited time offer
Manage Vendors (Unlimited)

Payouts Transaction Charges (T+2): 1.9% on Credit Cards, 1% Debit Cards, Netbanking Rs. 25, UPI Rs. 5

Collections Charges 1.75% (on all modes, after activation)

Max Transaction size: No Limit
All charges mentioned above are exclusive of taxes, GST extra.
Going cashless is good for everyone, but Phylo is not only about going cashless. It offers hosts of benefits ranging from security to business. Here are some of the reason why you should start using Phylo.
Carrying cash
involves risk
High value cash handling attracts unwanted attention. Going cashless is safe.
Receive payments into your bank accounts
Collect payments into your bank account directly from your clients.
Non-acceptance of Cards does not apply to you.
Pay your vendor, individual or at a shop where cards are not accepted.
Get started
immediately
Getting started is quick and easy with your PAN card details.
Send invoice & receive payments
Create and send custom invoices for your customers and receive payment.
Secure payment method
Transaction data is secured with AES-encryption along with 128-bit SSL encryption.
Safety and security of your Credit Card Transactions
Safety and security of your financial transactions is extremely important. At Phylo we take data security very seriously. Here are few of the things we advice all our customers to adhere to while making any payments online or receiving payments:
You should never share your Debit Or Credit Card details over the phone. Phylo or any bank employee will never ask you for your card details.

You should also never share your credit or debit card CVV or OTP received on your mobile phone.

If you receive a call from anyone claiming to be from bank, and asking to assist you in doing transaction, do not entertain.

If you receive any call asking for card details or OTP, do not provide any details and report to your nearest bank branch or call you credit or debit card helpline number.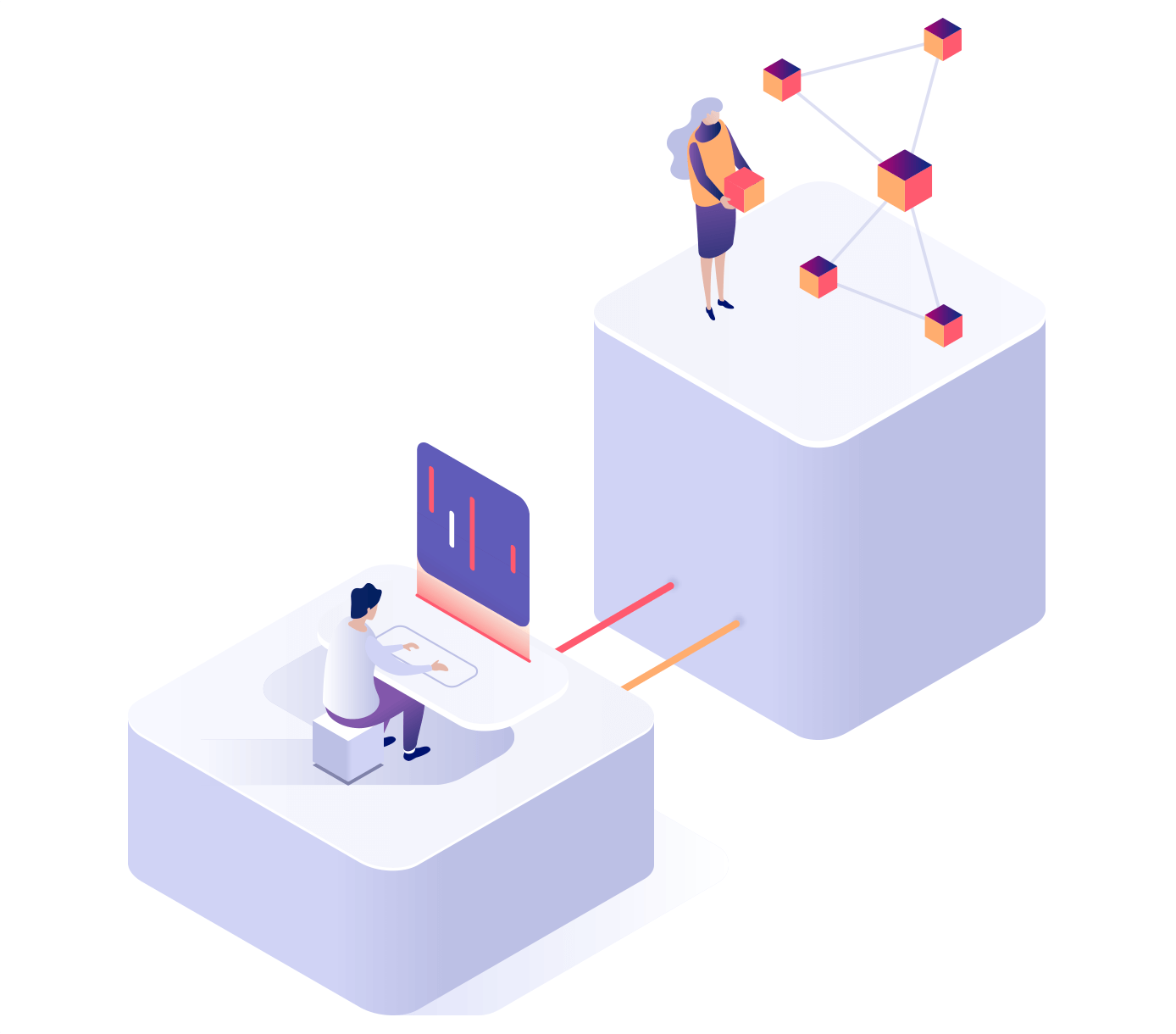 Frequently Asked Questions?
Here are some questions that might come to your mind.